European Corrosion Medal 2013
On the occasion of EUROCORR 2013 in Estoril, Portugal, the European Corrosion Medal has been awarded to
Professor Christofer Leygraf, Sweden

Christofer Leygraf, professor of Surface and Corrosion Science at the Royal Institute of Technology Stockholm, Sweden, has been awarded with the European Corrosion Medal at EUROCORR this year. The prestigious Medal goes to an individual for his or her outstanding work and contribution to the field of corrosion science and engineering and was presented to Christofer Leygraf at the EUROCORR opening ceremony on September 2nd. Christofer Leygraf was nominated by his Swedish EFC Member Society Swerea KIMAB, the Swedish Corrosion Institute.

read more (EFC Newsletter No 21, p5)
The purpose of the European Corrosion Medal is to recognise achievements by a scientist, or group of scientists, in the application of corrosion science in the widest sence. The recipient(s) must be of a nationality corresponding to one, or more, of the Member Societies of the EFC and the work must be conducted within a European country.
The European Corrosion Medal consists of a bronze medal, a diploma and a sum of 1000 Euros and is awarded every two years preferably on the occasion of a Europen Corrosion Congress (EUROCORR). The laureate is invited to give a lecture related to the work for which the medal was attributed.

---
EFC Poster Award
On the occasion of EUROCORR 2013 in Estoril, Portugal, the Young Author's EFC Poster Award has been presented to
Bruno M. Rocha Martins

for the outstanding poster contribution

"'Smart' water-based epoxy coatings for corrosion protection of AA 2024"
by Bruno M. R. Martins, Darya Snihirova, M.F. Montemor, ICEMS, Instituto Superior Technico, ULisboa/P; K. Szczepanowicz, P. Warsynski, Insitute of Catlysis and Surface Technology,Polish Academy of Sciences, Krakow,/PL;
---
Young Author's Prize

Each year since 2003 ANTIKOR, the International Scientific and Educational Corrosion Centre in Moscow, which is represented by Dr. Alexander Muradov, has kindly sponsored a prize for the best oral presentation by a young author under the age of 35 in the Oil and Gas session at EUROCORR.
The winner 2013 is:
Gaurav Joshi
The University of Manchester, United Kingdom
"Elucidating sweet corrosion scale"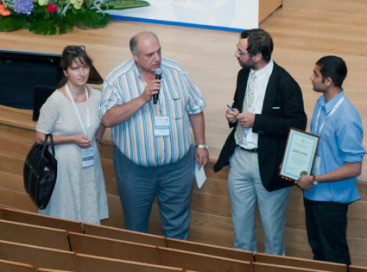 Photo: Presentation of the Young Author's Prize to G. Joshi (right) by Prof. A. Muradov

---
WP 4 Poster Prize during EUROCORR 2013
A prize for the best poster of the Nuclear Corrosion Session has been awarded for the first time during EUROCORR 2013 in Estoril:
"Effects of Chloride and Sulphate Ions on the Corrosion of Alloy 800 Steam Generator Tube", by

Fábio A. Mansur

, Mônica Maria A. M. Schvartzman (see photo), Pedro Henrique B. O. Nogueira and Marco Antônio Dutra Quinan (CDTN, Brazil).