Young EFC meeting
EUROCORR 2016
11-15 September 2016, Montpellier, France


Young EFC is an initiative created in 2016 by the European Federation of Corrosion (EFC) to support young researchers and engineers in the field of corrosion and protection of materials.
If you want to learn more about Young EFC and actively participate, Meet us at EUROCORR2016!
The first meeting of the Young EFC will take place at EUROCORR2016 in Montpellier, France on
Wednesday, 14.09.2016 between 18:10 and 19:30 in the room "Louisville" (level 0).
This is the beginning of Young EFC community and your time to contribute as a young or senior corrosionist.
You can also visit the Young EFC booth (level 2) at EUROCORR2016.

The Young EFC Board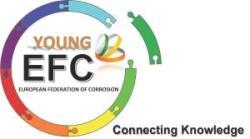 Yaiza Gonzalez-Garcia
Marta Mohedano
Michele Fedel
Cem Örnek
Christofer Leygraf